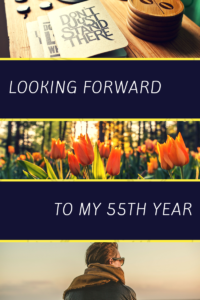 The best way to predict the future is to create it. Abraham Lincoln
My 55th year. I've thought about this for a while. Well, actually since the 19th, my birthday. I remember when I returned to school to get my Masters in Special Education and my goal then was that I would have my first classroom at 45. I met that goal became a teacher, with my first classroom and it was wonderful. I worked with some amazing children, awesome staff and we had the world on a string…that was where life really got in the way.

Mental health issues have always been a hidden and scary fact in society. In my opinion, people just do not understand how to help someone who struggles with them. They are afraid to ask, they struggle with their own feelings of guilt, maybe? I think that was my biggest struggle was the guilt. You see it was my daughter who struggled with severe mental health issues.
It all began like a whirlwind of everything happening at once.  Having four children will do that. My two oldest were trying to figure out life (and continue to do so), while the two youngest (twins) were just finishing up Elementary School. We had one in high school, one in middle school and two in elementary and moving forward after that summer is a blur. Actually, the past 6 years have been a blur. The particulars of the story will need to wait.
Fast forward to 2017.
My oldest graduated high school (5 years ago) and is moving up in a successful career. Our second during all the turmoil of life ended up having our first grandson (now 2, he has brought back the smiles in our family), but she has found a career she enjoys as well. The biggest success is that the twins now 18 yrs old will be graduating high school in a few short weeks, with unbelievable grade point averages. Phew! Did I actually say that? Since I have been home the past few years as the Owner teacher/tutor with Castle Rock Tutoring plus other positions that I have dabbled in over the years just to help contribute to the family.
As I continue to strive to help families with this blog. As I have heard daily tweaks occur on everyone's blog. The reason I mention this is our Reading Resources Page will be in a continued construction phase until I feel confident just minor tweaks will only be needed. As I move into my 55th year I hope to continue help children here in here in Castle Rock, Colorado and beyond as The Online Reading Expert. There are other things I enjoy doing as well which include working with children in China, a billion dollar Wellness Company and Fairy Houses (soon to be released).
One of my online students was in Yorkshire when I was in London, then she was in London when I was in London, and now I'm in Yorkshire and she's in Spain. Tutoring still continues despite changing locations for tutor and student. The magic of online tutoring!

Atul Rana, Full time professional online tutor for Maths/Dyscalculia/Science/Engineering
Which brings me to my 55th year.